Polyethylene Powder Coating for Battery Box Container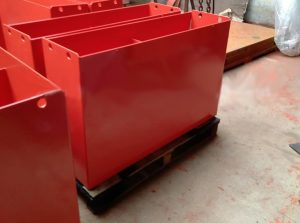 Polyethylene Powder Coating for Battery Box Container
Description
PECOAT® PEB4177 Polyethylene powder coating for Battery box container is a thermoplastic powder coating modified with polyethylene resin as the base material, and added with lubricants, anti-aging agents, stabilizers, color fillers, etc. The coating has excellent weather resistance, chemical stability, electrical insulation, low-temperature resistance, corrosion resistance, and flexibility inherent in polyethylene.
Application Fields
It is suitable for coating battery boxes.
Properties of Powder
non-volatile content: ≥99.5%,
dry flowability of flow-up: ≥20%
Specific gravity :0.91-0.95 (varying with color)
Particle size distribution :≤300um
melt index :5-50g/10min (2.16kg, 190℃) [depending on the coated workpiece and customer process].
Storage:It should be stored below 35℃, in a dry and sun-free area, and managed on a first-in-first-out basis. The packaging is a composite paper bag with a net weight of 20kg per bag.
Application Instructions
Pre-treatment: Thoroughly remove oil and rust, which can be achieved by high-temperature method, solvent method, chemical method, or sandblasting. After treatment, the surface of the substrate should be neutral [acidic will cause substrate corrosion, and alkaline may cause coating cracking].
Workpiece preheating temperature: 250-350℃ [adjusted according to the size of the workpiece's heat capacity (i.e. metal thickness)].
Fluidized bed immersion coating: 4-8 seconds [adjusted according to the metal thickness and shape of the workpiece].
post heating: 180-250℃, 0-5 minutes [post-heating and plasticization process is beneficial to obtain a smooth coating on the metal surface].
Cooling: air-cooled or naturally cooled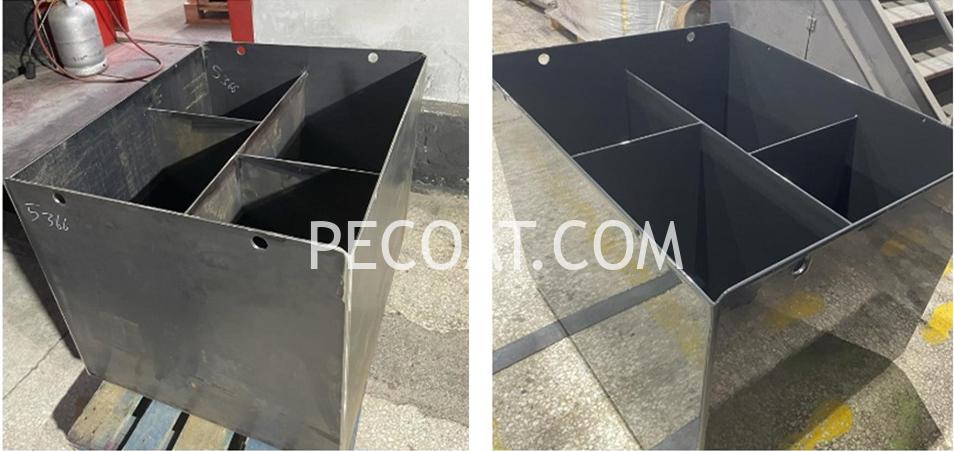 Coating Performance
Color (GB/T 9761): No significant difference observed (compared to standard plate)
Appearance (Q/HJ 008): Flat and smooth (allowing for slight orange peel)
Glossiness% (GB/T 9754, 60°): 10-75 (adjusted according to customer requirements)
Bending (film thickness 200mm) (GB/T 6742): ≤2mm
Shore hardness (D) (GB/T 2411): 53
Low temperature embrittlement resistance (Q/HJ 008): -35℃, 60h without cracking
Adhesion (refer to 5.5.2.3.2 in JT/T 600.1): Grade 0-1
Resistance to environmental stress cracking ESC (GB1842): 8h
Resistance to high and low temperature testing (-30-20-60-20℃): 8 temperature cycles, coating does not crack or peel off.
Health and Safety
This powder coating is a non-toxic product, but inhalation of dust should be avoided during use. It is recommended that operators wear appropriate dust masks and goggles. If possible, avoid prolonged skin contact with the powder coating. We recommend installing an edge exhaust fan on the fluidized bed container.
Precautions
To achieve the best adhesion, it is recommended to phosphatize or chromate the substrate after degreasing and rust removal. However, since the chromate solution contains a large amount of hexavalent chromium, its toxicity poses a great risk to human and biological health and must be discharged after careful treatment.
Overheating will cause the coating to age and discolor, and the film will be damaged due to high temperature. Too low temperature will result in low powder coating rate, uneven coating, and insufficient chemical bonding, which will reduce the adhesion between the coating and the substrate. Therefore, the optimal heating temperature should be determined through experiments based on the metal thickness and customer coating facilities.
Excessive film thickness will affect the adhesion between the film and the substrate, resulting in detachment of the coating from the substrate.
Workpiece design: sharpened parts should be ground, there should be no gaps in the welding area, and the metal thickness and wire diameter on the same workpiece should be similar.
This product is not recommended for use in post-processing (reformed) products.
Like all polymer powders, especially in fluidized conditions, this powder can ignite or burn if it comes into contact with a heat source or ignition device.
Application Process