ETPU Foam Granule
PECOAT® E-TPU Foam Granule
ETPU is the abbreviation of "Expanded Thermoplastic Polyurethane", which is a foamed thermoplastic polyurethane granule and is a product processed from thermoplastic polyurethane elastomer (TPU). Due to its structure resembling popcorn, people also call it " TPU Popcorn " .
ETPU is a new type of foaming material with excellent performance. It retains the excellent properties of TPU materials and also has excellent wear resistance, high mechanical strength, high resilience, resistance to bending and folding, hydrolysis resistance, oil resistance, low yellowing, and small permanent compression deformation.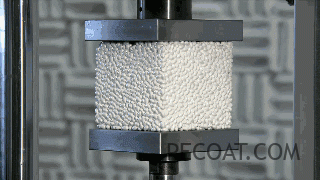 Ultra-light Density: Particles of 0.15-0.25g/cm3 can be prepared.
High Wear Resistance: The wear test value is lower than 53mm3
Anti-yellowing grade ≥4 level
High Bending Resistance ≥120,000 times
Low Temperature Resistance: Product keep good rebound performance under -20℃
High Rebound Performance: Up to 60%
Environmental Friendly: Entire process are environmentally friendly
Comparison Of Different Foam Materials << Read More >>
In addition to being widely used in the footwear industry, E-TPU materials can also be applied to tracks, helmets, packaging materials, and automotive interiors.
How to use ETPU foam granule,Steam pressure,Glue Bond Forming and Mix Pouring Molding #etpu
E-TPU Tensile Test elongation at break #etpu PECOAT.COM
ETPU elastic floor laying, E-TPU foam playground floor ,etpu foam granul supplier pecoat.com
ETPU Board Elasticity, expanded thermoplastic polyurethane popcorn pecoat.com
ETPU+PU Composite Insole, How to make ETPU insoles, TPU popcoin insoles production
Expanded thermoplastic polyurethane ETPU foam beads production
E-TPU Foam Granule TPU Popcorn Productin for Shoe and Cushion
ETPU foam granule popcorn for solid tyre
Expanded Thermoplastic Polyurethane (ETPU) Foam Beads packing delivery to shoe factory
ETPU foam granule for shoe sole, E-TPU expanded thermoplastic polyurethane material production
We provide 0.2kg free samples for your convenience to evaluate and test.
Any other expenses incurred besides the sample shall be paid by the applicant.
Sample delivery time is 1-3 working days.