PECOAT® Thermoplastic Powder Coating for Refrigerator Grids Shelf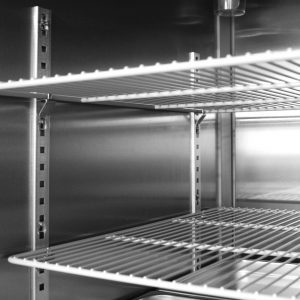 PECOAT® Thermoplastic Powder Coating for Refrigerator Grids Shelf
Thermoplastic powder coating is a type of coating that is applied to various metal surfaces to provide protection against corrosion, scratches, and other forms of wear and tear. It is a dry powder, that is melted and cured onto the metal surface to create a durable, protective coating.
In the case of refrigerator grids shelf, thermoplastic powder coating can be an ideal solution for protecting the metal grids from moisture, rust, and other environmental factors. The coating is typically applied using fluidized bed, where the powder is melted and fused onto the metal surface.
One of the advantages of using thermoplastic powder coating for refrigerator grids is its ability to withstand temperature changes. Refrigerators often go through cycles of freezing and thawing, which can cause the metal grids to expand and contract. Thermoplastic powder coating is designed to be flexible and can expand and contract with the metal grid without cracking or peeling.
Another advantage of thermoplastic powder coatings is its resistance to chemicals. Refrigerators often come into contact with chemicals, such as cleaning solutions and spills from food and beverages. Thermoplastic powder coating is resistant to most chemicals and can protect the metal grid from damage.
In addition, thermoplastic powder coatings can also provide a decorative finish to refrigerator grids. The powder can be customized in a variety of colors and finishes, allowing manufacturers to match the coating to the refrigerator's design.
PECOAT® thermoplastic polyethylene powder coatings can be an excellent solution for protecting refrigerator grids from corrosion, scratches, and other forms of damage. It is a durable, flexible, and chemical-resistant coating that can withstand temperature changes and provide a decorative finish to the metal surface.
Using Video
Hygiene Test Report – Safety Contact With Food and Water