Nylon Powder Coating for Dishwasher Basket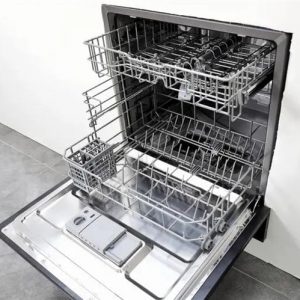 PECOAT® Nylon powder coating for dishwasher are made of high-performance nylon by special physical process, and the powder is regular ball type; It has excellent physical and chemical properties, wear resistance, low temperature resistance, flexibility and excellent adhesion with metal; environmental friendly, non-toxic and harmless thermoplastic powder coatings, which can well meet the requirements of non-toxic and harmless environmental protection applications in dishwasher and trolley fields.
Product characteristics
PECOAT® special Nylon powder coating for dishwasherbasket is applied to the surface coating of dishwasher basket to form a very solid and smooth coating, which will not affect the performance of nylon coating after a long time of cold and hot water washing, and is resistant to various chemical detergents;
ithas excellent impact resistance. Nylon powder coated on metal surface has very good adhesion with metal, excellent impact resistance and good service life of cart;
itmeets the domestic and European and American environmental standards. The SGS test items "cadmium (CD), lead (PB), mercury (Hg), hexavalent chromium (CR VI), polybrominated benzene and polybrominated benzene ether" are not included.
Characteristics of Nylon Powder Coating for Dishwasher Components
Nylon powder coating for dishwasher components has several characteristics that make it an excellent choice for this application.
Firstly, it has excellent chemical resistance, which means that it can withstand exposure to detergents, acids, and other chemicals commonly found in dishwashers.
Secondly, nylon powder coating is abrasion-resistant, which means that it can withstand the wear and tear of daily use without chipping or flaking. This is important for dishwasher components, which are subjected to frequent loading and unloading of dishes and glassware.
Thirdly, nylon powder coating provides excellent adhesion to the surface of the components, which means that it will not peel, crack, or flake off over time. This is important for creating a long-lasting and durable coating that will provide protection and enhance the appearance of the dishwasher components.